Created in 2012 by veteran dental hygienist and entrepreneur Kathleen Bokrossy, "The RDH View" is a talk show hosted by inspirational dental hygienists -- including Anna Louise Tolan, Kerry Lepicek, Beth Parkes and Kathleen Bokrossy. Each offers her take on the professions hot topics and current issues. The ladies welcome various guests, who join them in a chat. The program also offers tips on how to stay engaged, how to keep motivated and keep current with this ever-changing and incredible profession!
Available to set-stage at any conference, welcoming local guests or guests presenting, "The RDH View" will be sure to kick off an incredible conference!
Cast Members:
Anna Louise Tolan, RDH, FADIA: A clinician, educator and lecturer, Anna Louise has over three decades of dental hygiene practice, specializing in advanced non-surgical periodontal therapy, dental implant therapy and the medically compromised client.
Kerry Lepicek, RDH: Kerry is a highly focused and engaging presenter with over a decade of experience using an interceptive and preventive approach to treating periodontal disease, peri-implantitis, and halitosis. She is a trustworthy expert on oral biofilm, halitosis and the oral-systemic link research. Her focus is on educating her clients and the dental profession on health and wellness. With Kerry's practical advice it will transform your practice and clients health.
Beth Parkes, RDH, BSc: An engaging presenter who has been a Registered Dental Hygienist for 15 years. She has worked in General practice, Independent Dental Hygiene Practice, Orthodontics and Periodontics and is the Educational Director for rdhu.
Kathleen Bokrossy, RDH: Entrepreneur, author and coach, Kathleen has been bringing engaging energy to the dental profession for over 30 years. She is the founder and president of rdhu Inc., a Professional Development company which provides team events, hands-on education and online learning.
To discuss details on how you can integrate learning and fun with 'The RDH View' at your next conference, please contact:
Kathleen Bokrossy: 1-855-295-7348
therdhview@rdhu.ca

Next Episode of The RDH View: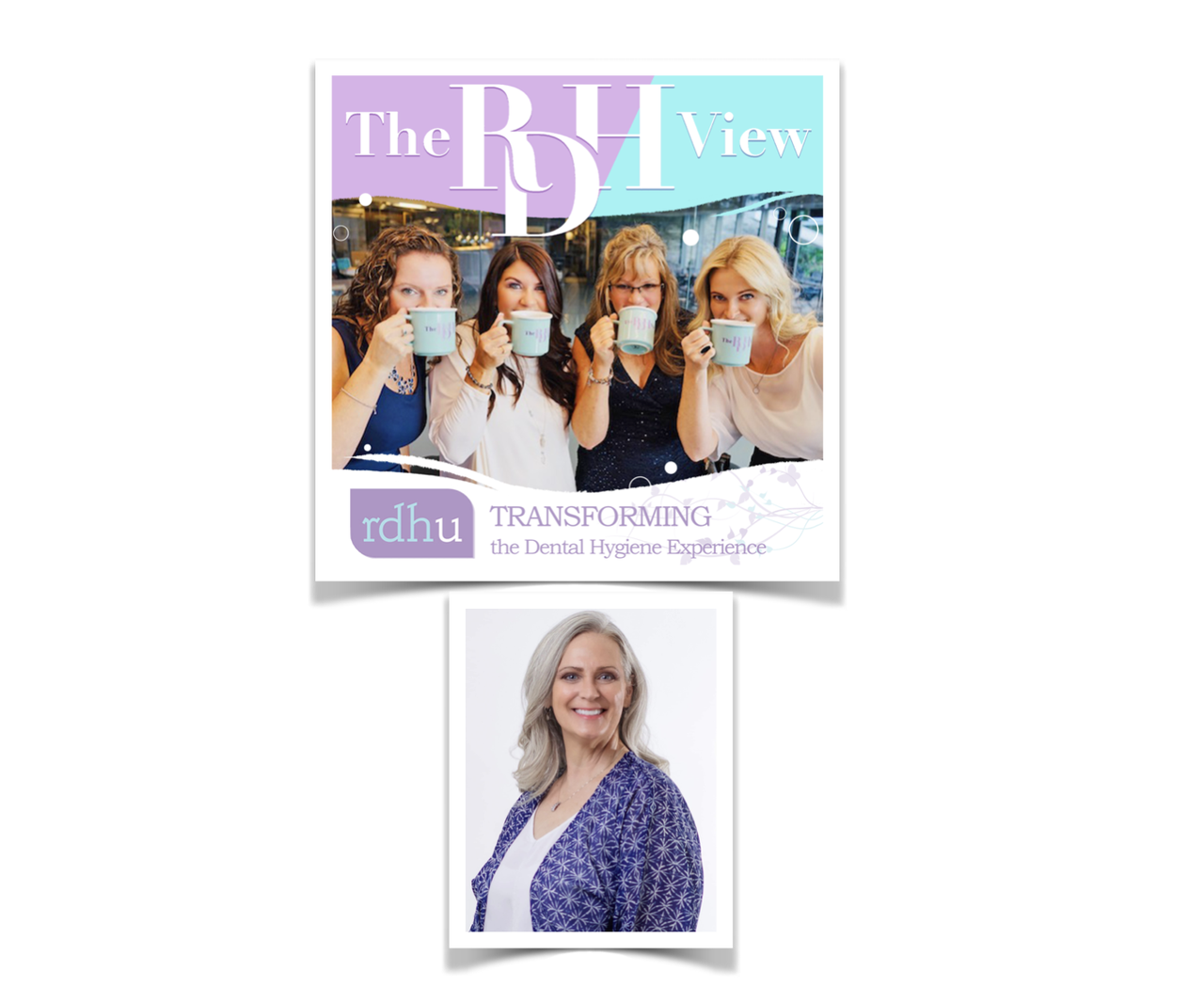 The RDH View with Angie Stone, RDH, BS ~ Brain Longevity Specialist, Brain Health Coach
Date: Friday, June 2nd, 2023 at 12pm (9am PT)
Topic: The Brain and Oral Systemic Health
Dental professionals across the globe preach about the oral systemic link and even we cut the associations off just under the nose. We have a front row seat in helping our patients keep their brains healthy. It is imperative we understand how to bring the brain conversation into our operatories.
Register in advance for this webinar:
https://us02web.zoom.us/webinar/register/WN_QJN14Y3xSHK5lwdIgfBO0w


After registering, you will receive a confirmation email containing information about joining the webinar.

Upcoming Episodes of The RDH View:
June 2, 2023
September 15, 2023
October 13, 2023
November 3, 2023
December 1, 2023